DC Parks Strategic Planning Documents
Below are several DC and Federal park-related strategic planning documents. NFHP reviewed these and found the Hearst Park renovation process thus far doesn't appear to be in keeping with the city's adopted local and federal planning documents, procedures, or site feasibility studies. NFHP asks the city to be faithful to its own thoughtful and deliberate documented plans and procedures.
NFHP Presentation - Presented on February 2nd to the Cleveland Park Citizens Association, hosted by the 2nd District Police Station.
FOIA Response - Any and all documents were requested pertaining to the process of selecting Hearst as a pool site, environmental studies, or provision of notice about the selection of the Hearst. The city replied that no documents such as these could be found.
ANC3F Resolution Requesting Formal Involvement of DOEE in the Design of the Hearst Recreation Center Park and Pool Project and Hydrology & Geologic Study - NFHP requests this resolution be honored. Excerpt: "Hearst Park itself is sited on significant landfill fill and deals with issues created by pre-existing springs, creeks and a major ravine that comprise the headwaters of Melvin Hazen Creek."
Comprehensive Plan for the National Capital - "Conserve and enhance the park and open space system of the National Capital Region, ensure that adequate resources are available for future generations, and promote an appropriate balance between open space resources and the built environment."
DC DPR 2014 Master Plan PlayDC - Calls for Hearst Park to be trails, naturalized landscape, and renovated and enlarged Rec Center. DPR, the DC Office of Planning (OP) and over 25 stakeholder organizations, in collaboration with consulting firm AECOM, developed "Play DC, a comprehensive Parks and Recreation Master Plan for the District of Columbia" in the Fall of 2012. The purpose of the "Play DC Master Plan" is to map a new vision for advancing the District's park and recreation resources over the next 15-20 years.
DC DPR Vision Framework for Master Plan
Joint District / Federal Plan for Parks & Open Space 'CapitalSpace'
CapitalSpace is a partnership initiative of the National Capital Planning Commission, the National Park Service, and the District of Columbia to develop shared strategies for working together on parks and open space throughout Washington, DC, particularly in the city's neighborhoods. The Commission adopted to final CapitalSpace Plan on April 1, 2010.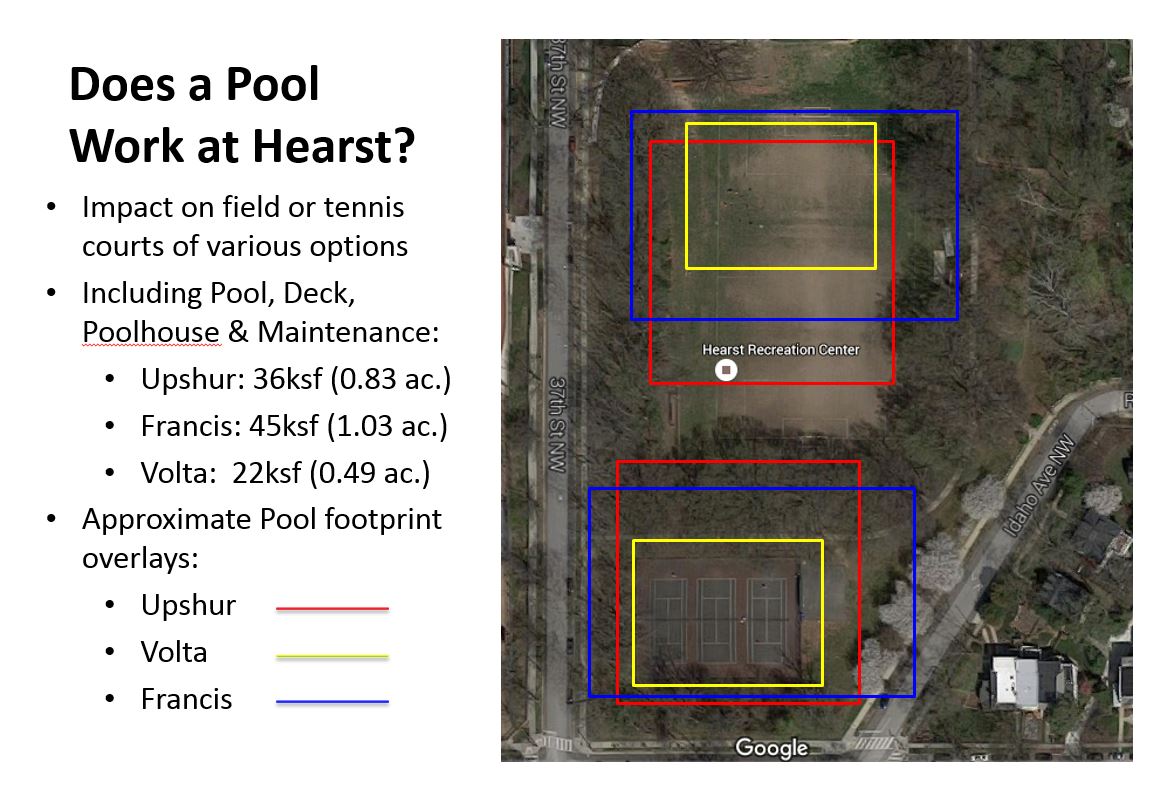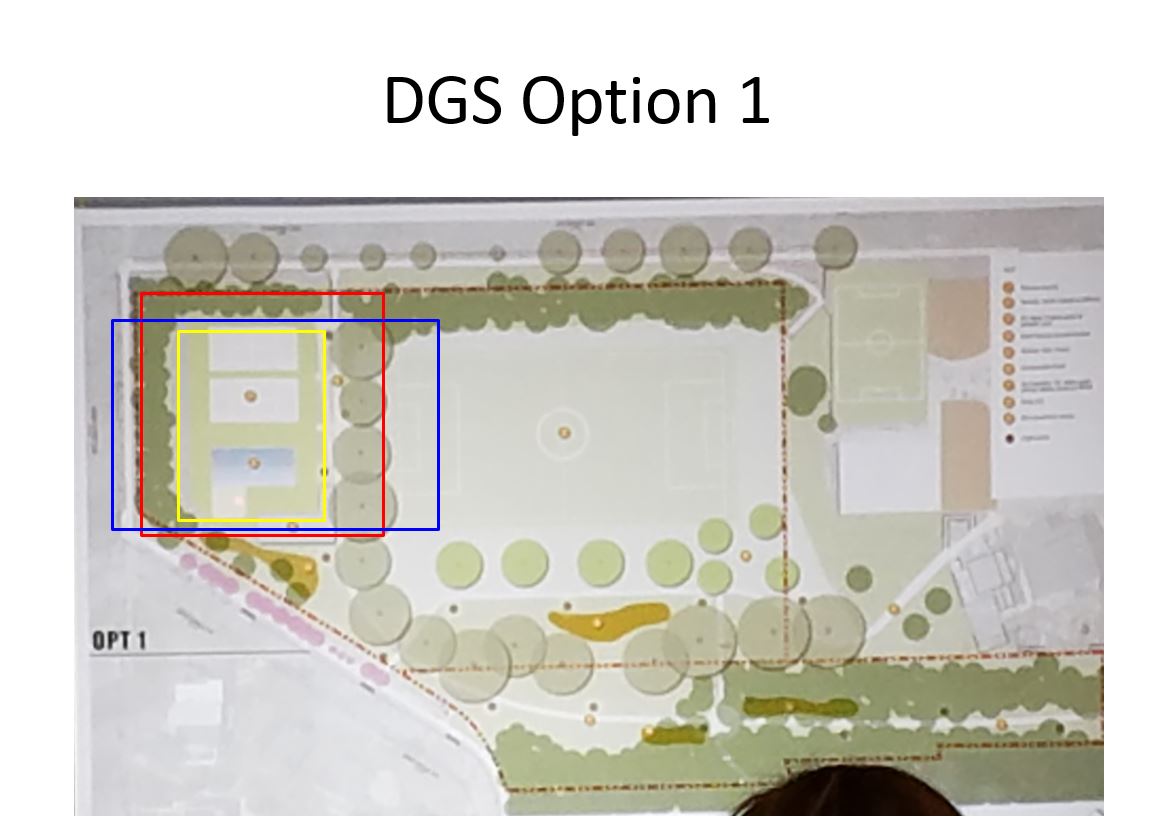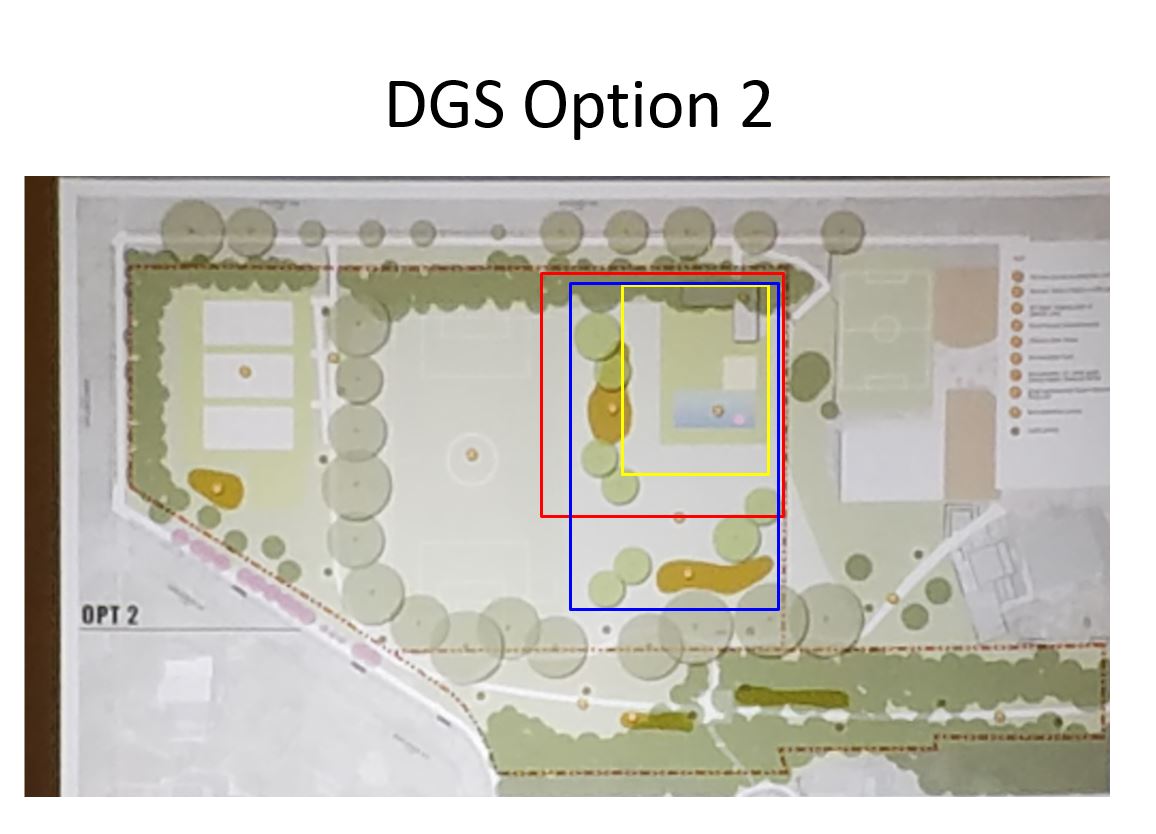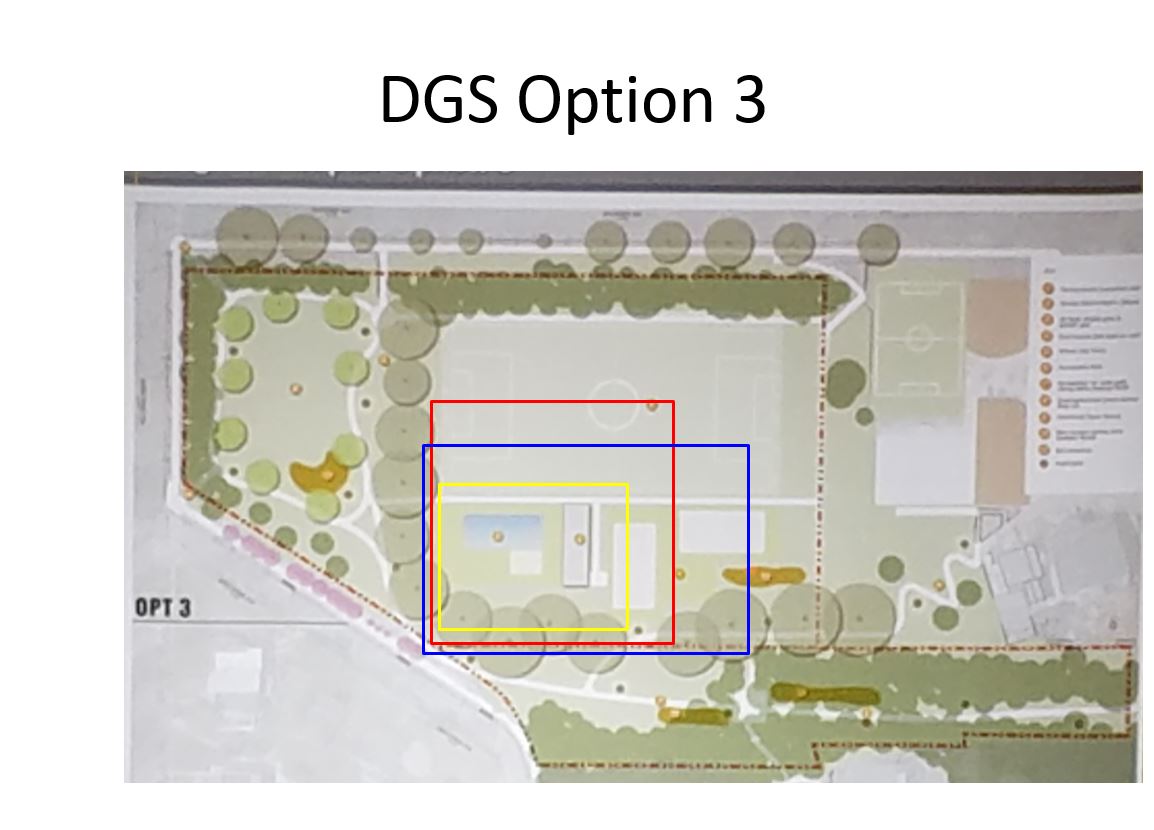 DGS Pool Design Options
DGS and DPR presented three options (presentation) at the September 8, 2016 community meeting. All three options included a pool, but none included measurements showing the true scale of the pool, surrounding concrete deck, and pool house. NFHP studied 17 DC outdoor public pool designs and found an average footprint of approximately 32,000 square feet. The images provided here show the three September 8 DGS options with a "to scale" overlay of Upshur, Volta, and Francis pool footprints so residents can weigh the more likely impact of a pool within Hearst Park.
Footprint of DC Public Pool Designs with Pool, Pool House and Concrete Deck
Anacostia: 38,000 sq ft
Banneker: 48,000 sq ft
Benning: 24,000 sq ft
Douglass: 32,0000 sq ft
East Potomac: 36,0000 sq ft
Fort Stanton: 28,000 sq ft
Francis pool: 39-45,000 sq ft
Harry Thomas: 35,000 sq ft
Kelly Miller: 32,000 sq ft
Langdon Park: 36,000 sq ft
Oxon Run: 27,000 sq ft
Randall Pool: 31,000 sq ft
Rosedale Pool: 22,000 sq ft
Ridge Road Pool: 39,000 sq ft
Theodore Hagens: 20,000 sq ft
Upshur: 34,000 sq ft
Volta: 22,000 sq ft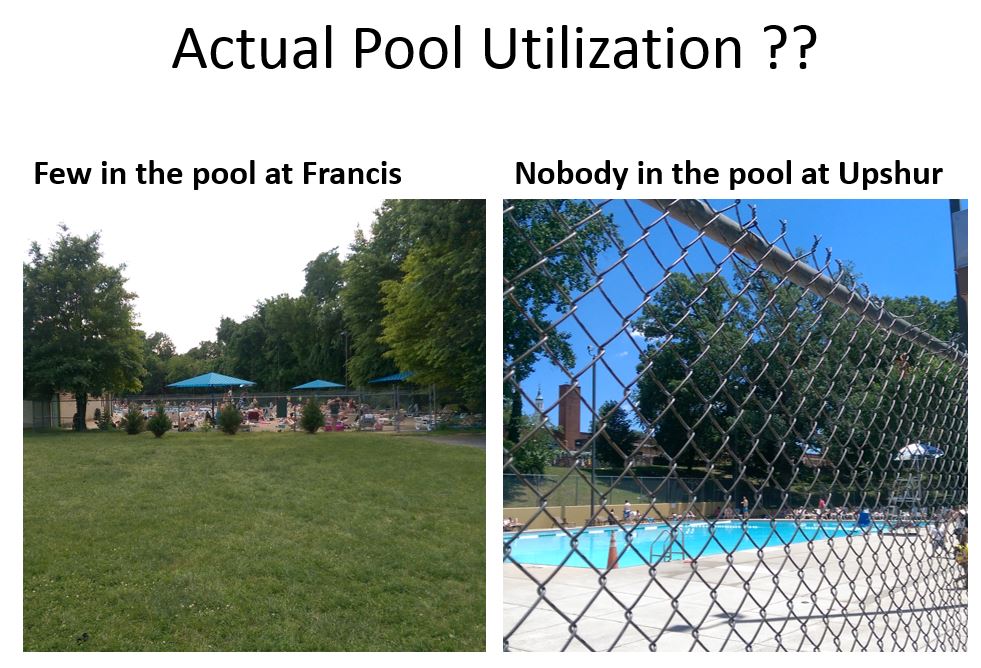 Renovation Concerns
Here are some pictures depicting maintenance and other concerns based on experience with existing Hearst Park challenges as well as other DC public pools at Francis and Upshur.
Maintenance of Existing Facilities
A pool would significantly up the ante for city management, but to date they have demonstrated that they are unable to maintain and manage existing amenities such as trash pickup, the soccer field, or the tennis courts. What would happen with significantly increased usage, wear and tear, and the significant maintenance involved with a pool? Maintenance is one question NFHP thinks deserves a thoughtful response and plan.