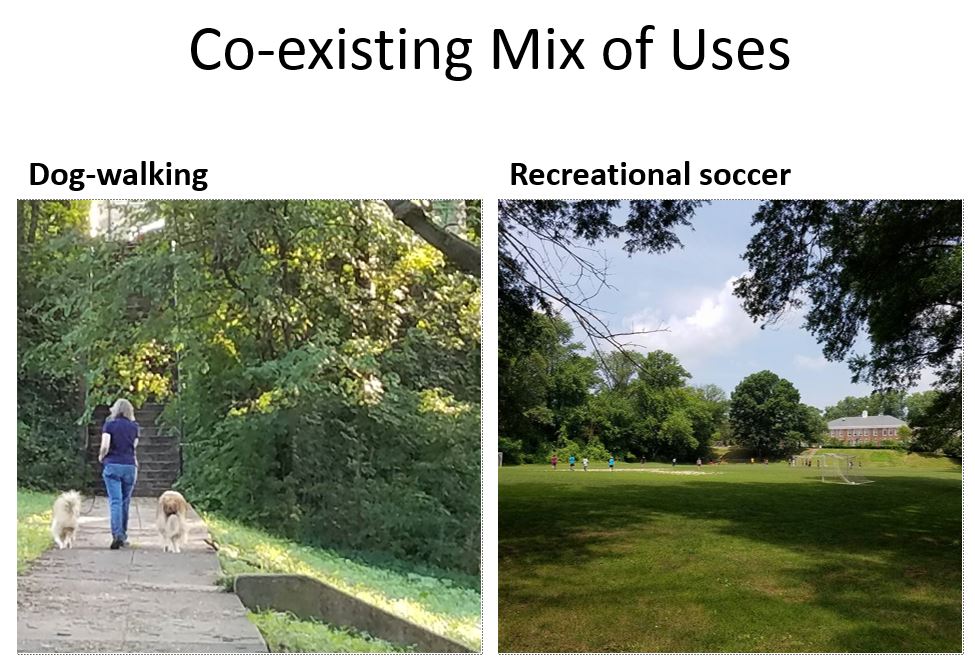 Year Round Uses
Adults, children of all ages, and their pets currently enjoy Hearst Park in all seasons. People enjoy tennis, soccer, sledding, pick-up baseball games, dog walking, cross-country skiing, and some general relaxation under its old-growth trees, to name a few.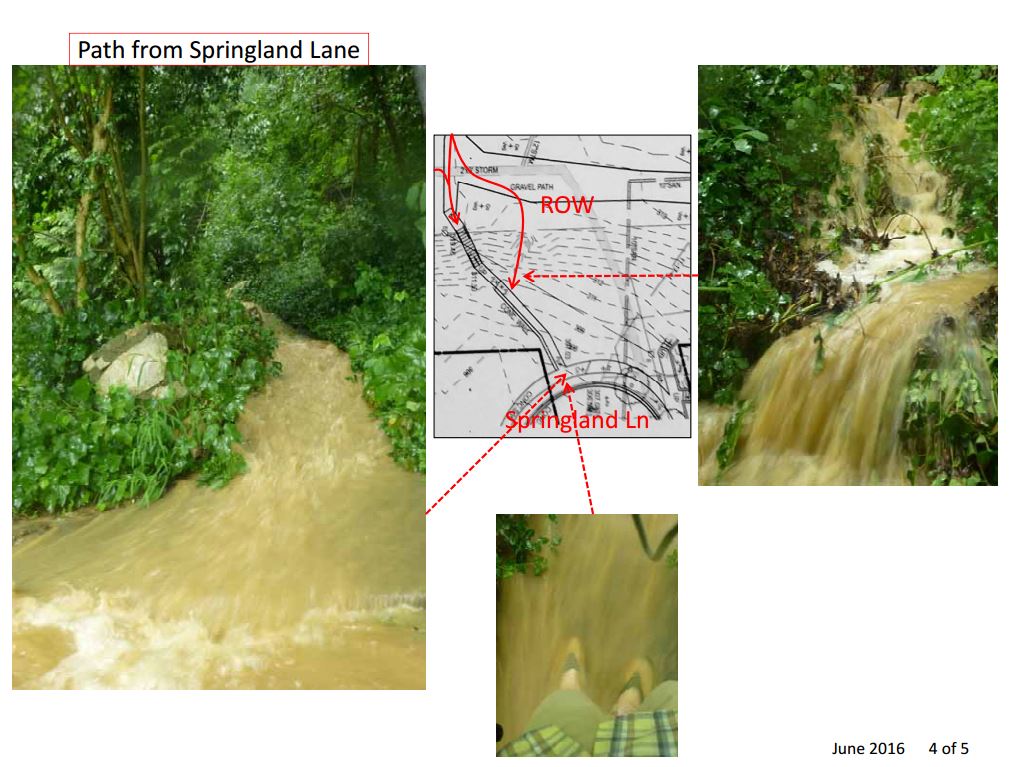 Hydrology and Runoff at Hearst
This storm water footage filmed May 5, 2017 illustrates the serious storm water management implications the city has failed to study or plan for before stating that Hearst was a suitable site for a pool and pool house.
Tony Fleming, licensed professional geologist, provides an assessment on Hearst Park's landscape and hydrology:
Hearst Park Hydrology. The soccer field and tennis courts were created in the early 1930s by filling in ravines and rerouting streams that are part of the Rock Creek Park watershed. The fill dirt is up to 30 feet deep, creating a "sponge" that collects storm water flowing downhill from nearby higher ground. Heavy rain causes overflows with runoff flowing into the neighborhood below. The report concludes that construction of a swimming pool in these soil conditions might be impractical and unduly expensive, and that the pool hardscape proposed for the park would exacerbate existing storm water runoff problems. DGS has not addressed these question.
ANC 3F signed a Resolution Requesting Formal Involvement of DOEE in the Design of the Hearst Recreation.
Park History
Link to Historic Preservation Report
Hearst Park Land Use & Planning Historical Context
July 16, 1790: Federal City Park System included in the approved by Act of Congress (1 Stat. 130) whereby President was authorized to appoint three Commissioners to define a district on Potomac River for permanent seat of US Government
1902: McMillan Commission published the McMillan Plan:
Comprehensive planning document for development of monumental core and the park system of Washington, DC
McMillan Plan expressly referenced the need to preserve open space, including specifically land preserved in its natural state, as part of the development of the District, including neighborhoods beginning to develop in Northwest DC – 'once it's gone, it's gone forever'
June 6, 1924: National Capital Park Commission authorized (43 Stat. 463) to prevent pollution of Rock Creek and Potomac and Anacostia Rivers, and to develop park, parkway and playground systems of the National Capital
April 30, 1926: Name change to National Capital Park and Planning Commission, and functions enlarged, by the Act of Congress (44 Stat. 374) including 'preservation of forests and natural scenery'
May 29, 1030: Capper-Cramton Act approved (46 Stat. 482) providing for acquisition and development of GW Parkway, and, for appropriations for acquisition of lands for 'playground, recreation center, community center, and similar municipal purposes'
1931: Chief Engineer Irving Root unveiled a master plan for the NCPC, entitled the Preliminary Master Plan of Highways and Parks. Included layout of Cleveland Park largely as we know it. Capper-Cramton provided funds for this purpose.
In 1931 USA acquired Lots 1-7 in Square 1905 from Gertrude Gordon and Cary T. Grayson (part of The Highlands estate) completing the site now known as Square 1905 Lot 0802 (Hearst Park) exclusive of Hearst School and Playground; Corps of Engineers design for park includes significant fill to create classically designed tri-partite park complex with 'sunken' level playing field that doubles as natural storm retention facility
June 16, 1932: Transfer of Jurisdiction
Hearst Park jurisdiction transferred from NPS to Commissioners of the District of Columbia 'for playground purposes'
Property transferred is: U.S. Reservation No. 527 ('part of Parcel 33/44, Lots 1-6 Inclusive, in Square 1905, and a portion of Lot 7, in Square 1905') 191,669.31 SF
Pursuant to Act of Congress approved June 6, 1924, Title 40, Section 73, U.S.C. and Act of February 26, 1925, Title 40, Section 2, U.S.C.
1987: Cleveland Park Historic Designation application
Park / School land was not included
HOWEVER, Park referenced as an important element as a boundary to buffer single family residences from institutional and commercial uses
2006: DC Comprehensive Plan update shows Hearst Park as open green space for recreational purposes
2010: Capital Space, a joint Federal and District multi-agency initiative, lays out master plan for 'Ideas to Achieve the Full Potential of Washington's Parks and Open Space', includes 'Big Ideas'; seems to emphasize maintaining open space. Lots of splash parks resulted. Environmental aspects are emphasized.
2014: DC Parks & Rec Master Plan / Historic Preservation Review
Historic Preservation Review references historic Rec Cottage on Playground, to the north of park, but does not appear to review Hearst Park proper
DPR Master Plan provides for:

New outdoor swimming pool in northern Ward 3
Preservation of natural landscape at Hearst Park